It all started with a honey-do
Donovan's has always been a hands-on type of person. From a Flight Deck Director on the USS Enterprise to a Refinery Operator at the Chevron Hawaii Refinery, to a Senior Consultant for TengizChevroil in Tengiz, Kazakhstan.
Softwash Hawaii came to life in January 2022. The idea started from a Honey-Do list for him, from his wife. "Clean the outside of the house" was the chore. The research into how to complete this request started, and the rest is history!

Throughout Donovan's working career, preventative maintenance was always a key to success.
With his Honey-Do request, Donovan thought, "Why is preventative maintenance not done at home?".
The answers always vary, but when implemented, the results are the same.
Convenience & Peace of Mind for All We Serve!
We want you to know
We are committed to your happiness
A Sustainable Environmental & Financial Alternative
Softwash Hawaii is a professional and knowledgeable company that strives to provide the highest level of service to our customers.
From the initial contact to the collection process, we seek to create a seamless and pleasant customer experience that produces a lifelong partnership, not simply a customer.
We always go the extra mile to ensure our customers are satisfied with our service and will happily refer us to others.
Our mission is to be the premier exterior cleaning service within the Hawaiian Islands, by providing world-class customer service, high-quality professional services, and generously giving back to the communities we live and work within.
Here is a short list of benefits our customer's experience:
In a world of unscrupulous consumption. Softwash Hawaii goal is to infinitely reduce consumption by extending the lifespan of property assets.
Need Answers Immediately?
Call or text by clicking below.?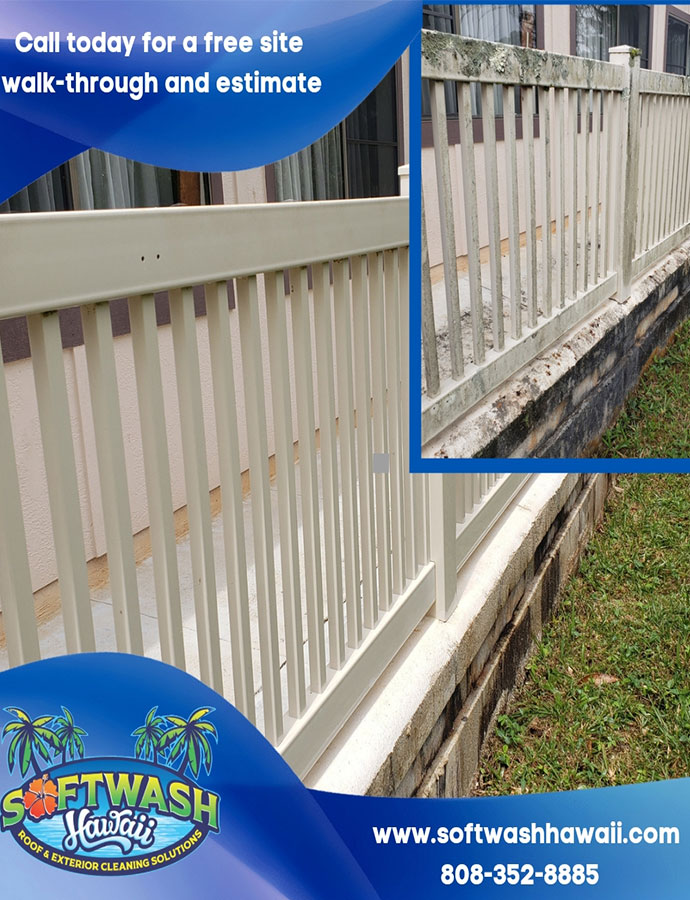 Life pivots, and so do we...
Donovan was forced into retirement by his previous employer of 28 years, and chose to take them lemons and make some sweet lemonade!
Life has ways of throwing us little hints as to where opportunities lay.
With Softwash Hawaii, a line item on a honey-do list was the hint.
A honey-do, turned into a idea, which turned into some research, which turned into an opportunity, and finally turned into a business that helps and assists customers with:
creating clean & healthy properties.
reducing unplanned expenses related to property assets.
being able to plan for future asset maintenance or replacements.
reducing the unwanted stress of asset failures.
creating and maintaining welcoming properties.
and much more.
As we have all experienced pivots in our lives. It is the perspective you view it from, and the actions that you decide to take that create the life you want. And more importantly, how your decision is able to positively impact the neighborhood and communities you live and work within.
To leave a long-lasting legacy for the families and communities we serve. Providing education and services which improve health, financial well-being, and community pride.
Softwash Hawaii's vision is to assist 1,000 property owners (per year) on extending the lifetime value of their roofs and exterior surfaces each year.
To prevent the unwanted financial and health-related stress of unplanned repairs and replacement of roof & property assets.
Keeping roofs and exterior surfaces alive and well.
Both roofing and exterior surface materials are prone to attack from organic contaminants. If not maintained and kept in check, the process of decomposition occurs.
The elimination of organic contaminant growth, and their decomposition properties is of what Softwash Hawaii is able to prevent and control. This allows for exponential life-spans of roof and exterior surface materials.
Environmentally responsible cleaning solutions
Ready to restore The Look of your Home?
no obligations just a fast quote