Get It Clean!
Keep It Clean!
It's the Environmentally Friendly Thing to do!
From the Average, To Leading the Way!
Donovan is no stranger to hands-on work. His professional path has seen him direct military aircraft on the USS Enterprise, manage operations at Chevron Hawaii's refinery, and offer valuable advice as a consultant for TengizChevroil in Tengiz, Kazakhstan.
These experiences eventually led him to establish Softwash Hawaii in February 2022.
The inspiration didn't come from a corporate meeting but from a simple task his wife asked him to do: "Clean the outside of the house." This was the start of a new chapter for Donovan, and he's been helping others improve their homes and lives ever since.
Got a Dirty Property?
Want it Cleaned?
Want to Keep It Clean?
Click one of the little Green Buttons and learn how Softwash Hawaii allows its clients to live their best lives!
Dedicated and Friendly Teams
Experience the Difference!
Prevent Property Overwhelm
Life can get overwhelming at times, causing us to overlook seemingly small tasks until they escalate into significant issues.
However, worry not, as Softwash Hawaii is your reliable solution for averting such problems altogether.
As part of our service, we provide our insight into preventative ways to keep your property looking its best, while improving the longevity of its materials.  
Having a second set of eyes on your property, along with written reports of any findings that may become issues in the future, allows for preplanning of any repairs or replacements that may need to occur in the future.
Get Your Property Cleaned, And Keep It Clean with Softwash Hawaii!
We help our clients live their best lives!
Need Answers Now?
Call or text by clicking below.?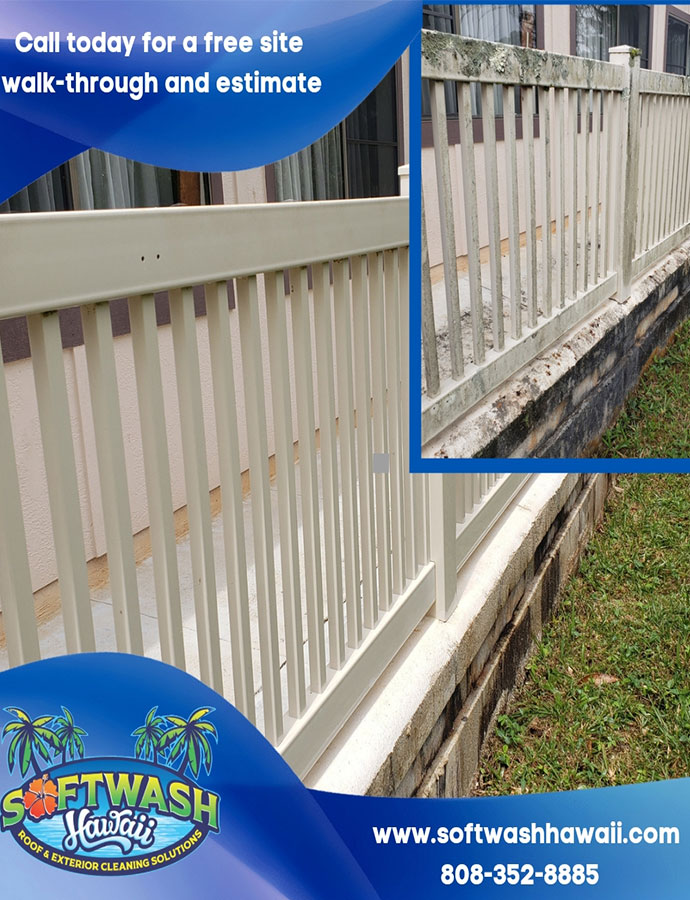 Life pivots, and so do we...
Donovan was forced into retirement by his previous employer of 28 years, and chose to take them lemons and make some sweet lemonade!
Life has ways of throwing us little hints as to where opportunities lay.
With Softwash Hawaii, a line item on a honey-do list was the hint.
A honey-do, turned into a idea, which turned into some research, which turned into an opportunity, and finally turned into a business that helps and assists customers with:
creating clean & healthy properties.
reducing unplanned expenses related to property assets.
being able to plan for future asset maintenance or replacements.
reducing the unwanted stress of asset failures.
creating and maintaining welcoming properties.
and much more.
As we have all experienced pivots in our lives. It is the perspective you view it from, and the actions that you decide to take that create the life you want. And more importantly, how your decision is able to positively impact the neighborhood and communities you live and work within.
Providing a legacy of education and services which improve health, financial & personal well-being, and community pride.
To help communities become better versions of themselves through the maintenance of residential and commercial properties. 
Remove the undue stresses of property ownership and management. 
Property Maintenance "REIMAGINED!"
As the saying goes,
"You don't know, what you don't know, and you don't know, what you don't know what you don't know."
We believe this is why many homes and properties are in the less than desired condition that they are in.
If you knew that there was a way to keep your home free from the nasty unsightly organic growths growing on your roof and exterior surfaces, would you be interested?
In the video to the right, you will see a property goes from extremely infested, to wonderfully clean.
Do you or someone you know have a roof that looks like this example?
As someone with compassion, would you share this information with them to help them with a cure to the problem?
As we love to help people with these types of challenges, the real solution is prevention.
Imagine "NEVER" having this problem again! Yes, NEVER!
Give us a call, or as a true friend, refer someone you know who could benefit from cleaning their property and NEVER having this problem again.
Environmentally responsible cleaning solutions
Ready Get Your Property Clean, & Keep it Clean?
no obligations just a fast quote